Who We Are
Pathway Pharmacy is locally owned and proudly serves the Niagara region. More than a neighborhood pharmacy, we are passionate about the health of our entire community and promise to provide the most exceptional customer service to every one of our patients. Our helpful team of staff members and our pharmacist, Freddy Soliman, will ensure each patient receives the best treatment possible.
Conveniently located in the Pathstone Mental Health building, Pathway Pharmacy is attached to Niagara Family Health Centre and Niagara North Diabetic Health Team. We are excited to offer a new type of pharmacy health experience, one that is completely concentrated on patient-centered care. We offer a variety of specialized services and point of care testing to make managing your health easier.
One of the primary reasons that Pathway Pharmacy partnered with Pathstone was to focus more deeply on mental health, and the overall health of the community. It is important to us that we keep our patients from taking more medications than necessary. We want patients to avoid using any additional medications while decreasing dependence on current prescriptions and we work closely with your doctors to address any concerns you might be experiencing.
Our commitment to our patients is to advise and support each individual with more personalized care. The staff at Pathway Pharmacy are highly trained professionals, each knowledgeable team member is ready to cater to every patient's unique needs. We pride ourselves with reduced wait times, and the unique services we provide. We welcome you to visit Pathway Pharmacy and we will guarantee you the highest care you deserve in the Niagara region.
Meet your pharmacy manager
Freddy Soliman, PharmD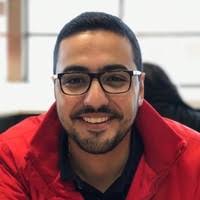 Freddy Soliman is a highly trained pharmacist who strives to provide consistent exceptional care to his patients. He obtained his Doctor of Pharmacy degree from Massachusetts College of Pharmacy and Health Sciences in Massachusetts, USA. His clinical interests include mental health, diabetes, immunotherapy, anticoagulation, and pain management.
Prior to his work at Pathway Pharmacy, Freddy worked in advanced specialty pharmacies in the US, where he learned how to handle complex disease states and worked closely with other specialists. He also has experience working in an insurance health plan in the US, where he obtained first-hand experience on approving exceptional access drugs for patients who had no other alternative therapy. In addition to all of this history and experience with research and disease, Freddy Soliman worked in medication outreach programs that have helped patients access unaffordable but necessary medications.
Call today to book your appointment with Freddy and review all your prescribed and over the counter medications.